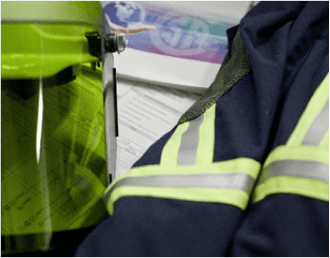 Happy New Year! What a great way to start off the year with a new Standard. We're very excited about this new edition because we know you'll find more value in the content as tools to apply when conducting an arc flash risk assessment.
The new 2015 edition of CSA Z462 has published and can be purchased online at the CSA Group store. The Standard is available in either PDF or wire bound printed versions. As a reminder from our earlier blog post do NOT immediately train your workers on the 2015 Standard without first updating your electrical safety program.


What You Need to Know
Here is what you need to know about the new edition of
CSA Z462
. The following list includes some of the most impactful changes and updates made to the Standard:
Broader inclusion of the concept of "Risk Assessment" consistent with Occupational Health & Safety Management System Standards and related risk assessments Standards.
The priority of the requirement for development of an Electrical Safety Program has been emphasized. The Electrical Safety Program should include a requirement for electrical equipment maintenance.
New definitions to clarify the difference between hazard and risk. This further aligns CSA Z462 with other safety Standards such as CSA Z1000 and CSA Z1002.
The Prohibited Approach Boundary for shock has been deleted.
The Restricted Approach Boundary voltage ranges have changed, 208V and 240V now have a defined Restricted Approach Boundary of 12 inches.
All references to a Hazard/risk category (HRC) are deleted. Hazard/risk category 0 was deleted.
The existing Hazard/risk category Table Method has been replaced with a new Arc Flash Hazard Identification Table and Arc Flash PPE Category. There is no Arc Flash PPE Category 0.
The new Risk Assessment Procedure requires that:
Electrical hazards are identified.
Risk is assessed.
Implement risk control according to a hierarchy of methods.
Arc Flash Hazard Analysis is now called Arc Flash Risk Assessment.
Shock Hazard Analysis is now called Shock Risk Assessment.
Normal operation of energized electrical equipment is now included and identified as:

The equipment is properly installed;
The equipment is properly maintained;
All equipment doors are closed and secured;
All equipment covers are in place and secured; and
There is no evidence of impending failure.

Clarity is provided on the requirement for an Energized Electrical Work Permit.
Clarification was added that either the incident energy analysis method or the Arc Flash PPE Category Method, but NOT both, may be used on the same piece of equipment for selection of the arc flash PPE.
Need help making sense of the changes? Contact us by email or phone. As members of the CSA Z462 Technical Committee we've been ready for the new edition for several months. We're prepared with updated solutions ranging from training, PPE, consulting support and full licensed template electrical safety programs called the "Product in a Box".
We're excited to roll out our CSA Z462-2015 products or services;
Changes & Updates eLearning course ($25/credit).
Electrical Worker Training (eLearning, Instructor-led or blended using both forms of training).
2nd to 3rd Edition CSA Z462 Differences Document.
Full Instructor-led Training in a classroom or onsite, 2 Day Low & High Voltage Training.
Arc Flash & Shock Boundaries Poster free download.
Electrical Safety Program "Product in a Box" licensed products.
Electrical Safety Program Annual Update for existing Clients.