Electrical Workers want to see true colours. Finally that technology is available for arc flash protection. Consider how important colours are to a worker who is responsible for electrical work. The difference is like lifting a green veil so you can see colours perfectly. It's now possible for Electrical Workers to wear adequate arc flash protection and see true colours, reds are red and blues are blue.
Ask your workers what they want, Green or True Colours? When arc flash personal protective equipment (PPE) is required (using new 2015 selection methods) it's important to provide the best available technology for worker compliance, comfort, productivity and overall sense of enjoyment.


Compliance
Workers take short cuts when their PPE is not comfortable or inhibits their ability to perform the work task. When evaluating the different types of arc-rated eye & face protection available on the market consider visibility, colour acuity, impact protection, anti-fog, anti-scratch and overall functionality.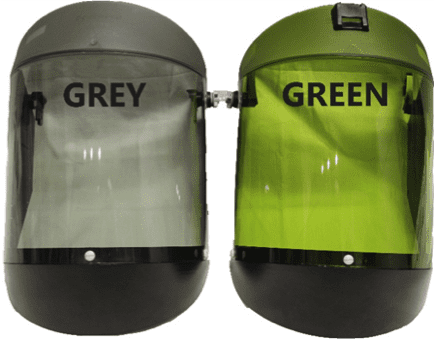 How does it work?
Arc-rated eye & face protective products are constructed with infrared (IR) protection to prevent burn injuries resulting from an arc flash. Typical IR protection uses a green colour. Advances in IR protection have allowed for a grey colour.
Why Grey?
Grey is a neutral density filter. In plain old English this means our eyes are able to see all colours of light equally. This is an important feature of other eye-wear such as sunglasses because while driving we need to be able to tell the difference between a green and red traffic light.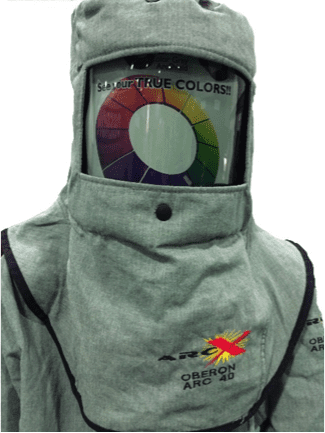 How far can we go?
Year over year we've seen new innovation in arc-rated PPE. It's a great time to review your existing arc flash PPE. Why suffer any longer? Adopt new technology to keep your workers happy and healthy.
Most recently, Category 4 (>40 cal/cm2) arc flash suit hoods are now available with the same Grey IR technology. See the picture of Oberon's new ARC40 hood.
Grey IR lens technology has been successfully tested up to ~70 cal/cm2 incident energy exposures (heat from an arc flash). This tells us that grey IR can be used in hoods that provide a significant amount of protection.